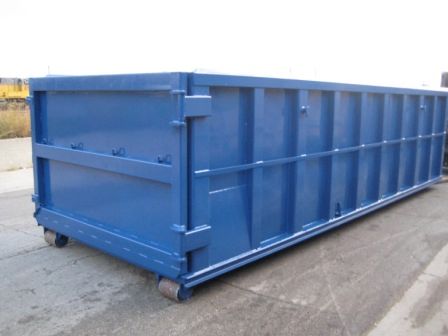 Quality Waste Containers
Robert's Sheet Metal Works, Inc. is a industrial waste container manufacturer known for it's product quality and engineering excellence. RSM supplies the Midwest with waste handling, recycling, material transport and environmental equipment.
The waste containers produced by RSM are renowned for superior durability, this is a signature of RSM and keeps our customer coming back. Containers are built using thicker steel then our competitors in critical locations in our designs, which results in a few additional years of field work before containers are in need of repair.
Our beginnings date back to 1987 when Robert's Sheet Metal Works, Inc. began manufacturing waste containers to small waste management companies in the Chicagoland area.
Since then has served big & small companies alike while established itself as a proven manufacturer of quality waste containers, compactors receivers, and other waste management related equipment for over 20 years.

*Roll-off 10C.Y. - 65C.Y.
*Rear load 1C.Y. - 8C.Y.
*Front load 2 C.Y.- 8C.Y.
*Lugger box's 6 C.Y. - 20C.Y.
*Hoppers 1/2C.Y. - 4C.Y.
*Compactor Receivers 30C.Y. - 42C.Y.
*Container parts and Accessories
*Structural Steel Supply

Custom built containers and weldments available upon Customers request!